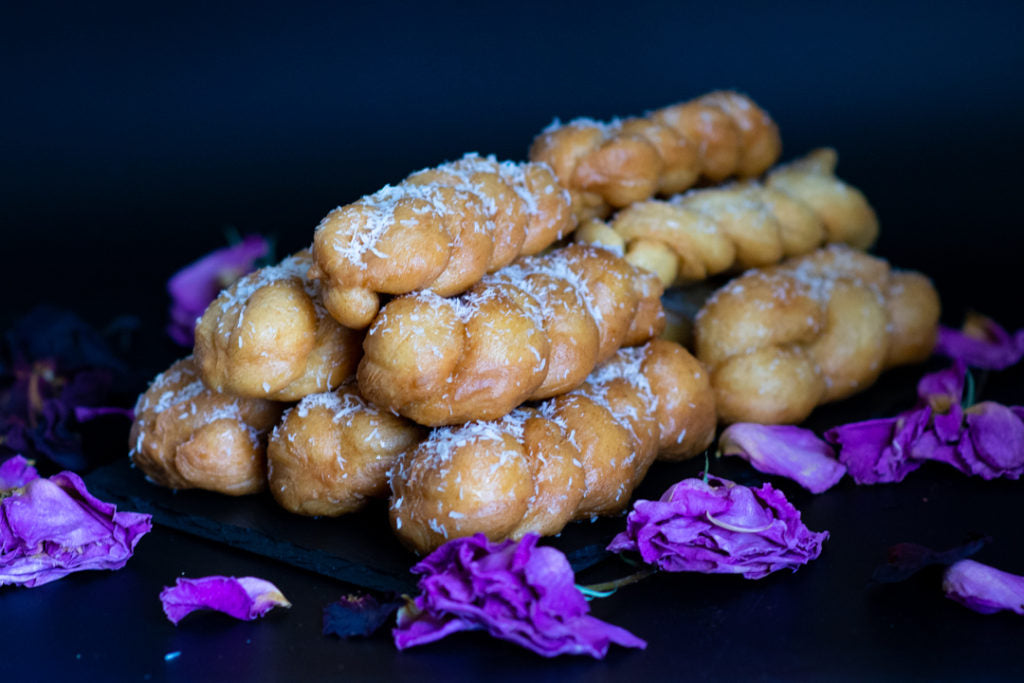 These braided pastries are almost TOO good.  Koeksisters just might become your favorite pastry.
Koeksisters are one of our most popular desserts!  Read more to learn why this delicious treat has quickly become a crowd favorite across the state.
Koeksisters are delicately fried, braided pastries that hail from South Africa, and they're oh-so-delicious.  Think of a crispy-on-the-outside, moist-on-the-inside fried doughnut, and you're getting there.  Traditionally, are two versions: the crispy, plaited koeksister that's dipped in a simple syrup and the spicy, cake-like kind that's rolled in coconut. Yum!
Our yummy riff on the traditional versions are: 1) vegan *only* version of traditional koeksisters is dipped in a syrup with warm spices like ginger, lime, and cinnamon, and lightly tossed in dried coconut, and 2) a gluten-free *only* round, baked version that is dipped in a sweet, gingery syrup and rolled in coconut.  Please choose your preference during checkout!

Did you know that you can get this South African delicacy delivered straight to your door?  We also provide statewide shipping for these treats!  Drool over the pics below, and order a box of your own Koeksisters today, or get our Koeksisters delivered straight to your door!